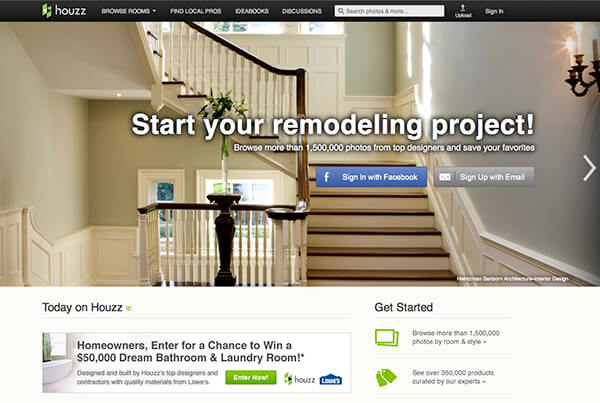 Have you added your company to Houzz and then wondered, now what? How will users find your profile? How will your jobs come up when they search? Working with my clients, I've compiled a list of some tips for you if you want to get the most out of Houzz.
When adding photos make sure you add some detailed descriptions besides the title. Tell users what you did for that project. Make sure you use words that you'd like to show up when a user searches. For example let's say I'm a landscaper:

Title: Custom Patio Design
Description: For this project we designed a custom patio using blue stone to create an intimate outdoor seating area with a fireplace to gather around, and an outdoor kitchen and dining area to enjoy warm evenings.

Follow more companies that provide complementary services. So if you are an Architect, you should follow Builders, Interior Designers, Landscapers, etc.
Create Ideabooks (you do this by adding different companies photos to a "book"). This helps show users the types of styles you like, what interests you, and even what you are able to do even if you haven't done it yet. You can also use photos of companies that provide complementary services to you, as a way to help cross-promote them, and ask them to do the same for you.
When anyone asks a question about one of your projects, try to answer with some detail and use some keywords if possible. Don't sound like a robot, but the answer could help you show up in searches.
Make sure you post something new each week, so you are constantly updating your profile. Don't post a ton one week and then not post again for 2 or 3 weeks, it's better to keep adding consistently.
These 5 tips should get you started on your Houzz-ing. Remember, as will all Search Engine Optimization (SEO) tricks, it takes a while for your changes to be seen by the "machines" so don't get frustrated if you don't have an increase of traffic to your profile, or don't see yourself in the #1 position when you do a search. Change takes time – but the better you are at keeping up with your profile, the more it will do for you.
Have you noticed anything else that has worked for you? If so I'd love to hear about it!