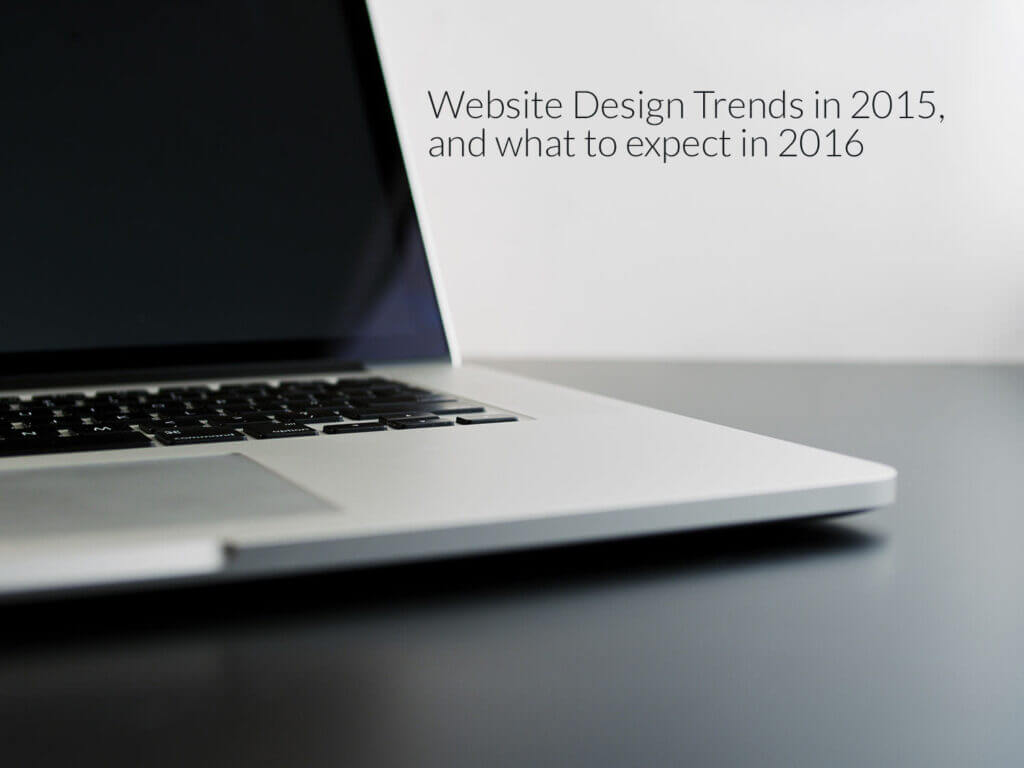 What are the latest trends in website design? What happened in 2015, and where will websites go in 2016? Let's take a look at a couple trends we've come across this year, and what we think about them as we move into 2016.
Flat Design. What does that mean? Goodbye days of drop shadows, glows, gradients and the like. We're looking at solid colors and simple design. It's going to make pre-2010 websites look old fast, really fast.
Typography as Design Elements. We're seeing a lot more websites use typography to tell their story. With Google fonts it's now possible to use "cool & different" fonts on the web besides Arial, Tahoma, Times & Georgia (Thank you Google!!!). And, with that ability gives designers an opportunity to play with fonts, weights, sizes and more, to create a graphic look when they don't have images to design with. This is exciting, and I bet we see more services like Google fonts come up, expanding our ability to use more and more fonts on the web, and really get creative!
Photography. You know all those templates that are advertised on TV. They look great don't they? Until you realize you need to fill those beautiful photos in with your own business photos… Photography is a huge design element on today's websites. And, it's not that photo that your mom snapped on her phone. It's a nice, professional, edited photo that turns people's heads and gets them clicking. Yep, photography is here to stay.
Videography. How long is your attention span? Have you even made it this far, or did you just skim above looking at the bold text and reading the next sentence or two? Our attention spans are short! Video gets across your point in a lot less time, so it's a great tool for your website. We're seeing full screen intro videos on websites. We're seeing movement in the background of pages.
Simplicity. Remember the early to mid 2000s? We wrote as much copy as we could on every page of our website in order to tell the search engines, who we were and what we did so they would rank us. We created such text heavy pages that no one wants to read them! And, it looks like people finally got sick of them. Gone are the 10 paragraph service pages, and here are the 10 word service pages. Will it negatively affect your search engine ranking? Who knows? Does anyone know the algorithm? And, it's always changing, so it may start favoring those pages… But, we do know it likes up-to-date websites with informative information, so even though you may have a simple, clean website, you still should have a blog letting the world know what you're up to. And that, should be what helps your ranking.
I think these 5 trends are what I've seen the most of this year. They are what clients have asked for, what I've read articles on, and what I've seen as I've scoured the web looking for new and different design ideas to implement on different websites.
So now, you'll have to stay tuned to see what we have coming for our new and improved website. 2016, here we come!