Should you go for a pre-made website template or a custom website? What is the best decision?
Okay, since I'm going to tackle a lot here I'm going to break it up a bit so it's easier to follow.
We get asked ALL. THE. TIME. about why someone should use us to create a fully custom website when they can get a free (or cheap) one easily?
So, I wanted to create a website for myself personally. Since Nic has a number of projects he's pretty head down in, we figured this was the perfect time to test it out.
I've been reading lots of blogs lately, and came across a template I liked. It was Wordpress, and it was $129. I figured I'd try it out, as I wouldn't lose too much if it was horrible.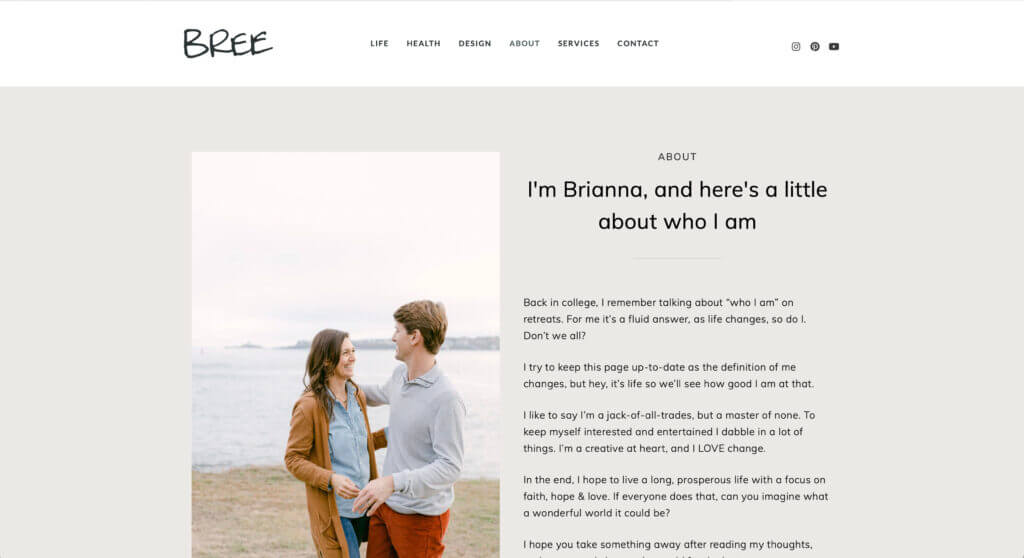 Starting the Template
Once I paid I had the link to download the "theme" and all it's files in my email. The company I purchased it from also had very detailed instructions and help files. (This may not be the case with all theme builders, however for the one I "tested" it was.)
Of course as I was implementing it I was interrupted by children who needed a variety of things, water bottles, help with their Seesaw activities, etc.
I got to a part where I was frustrated. Based on the directions I wasn't seeing what I was supposed to be seeing. So, I filled out a ticket on the theme-makers website, and fully expected to wait 24 hrs to hear back. Within minutes I had my answer. Apparently when answering my children I missed a step. Palm to forehead. I was one of those customers. Once I went back and fixed my mistake I was fine!
Elementor
The theme uses the plugin elementor to drag and drop the pieces. Personally, I found this to be a clunky, kind of annoying second layer to it. I'd rather have used Gutenburg to create my layouts. However, I understand this may be because of my experience building websites, that I find this an unnecessary layer that someone else may like.
Template Difficulties
I discovered after looking at my site on my phone that the mobile version wasn't recognizing all my edits. I had a pretty good idea of where to look since I typically build websites. Fortunately, I was able to figure out where those settings were. If you asked the theme maker, I would assume based on their helpfulness to me, that they also would have guided you. But, since I didn't ask, I don't know.
The colors.
The theme came in pink, and if you know me I hate pink, so that was one of the first things I wanted to change. But I think they assume if you bought the theme you like pink. So, they don't lay out how to swap it all out. Based on different things I know, I dug in. And, I figured out the 2 separate places that were calling colors and swapped them to my desired color palette. (Overall it seems most of the color changes I made were implemented. However, there are a couple of places I still haven't figured out how to change the color. Since they aren't pink I'm okay with that for now.)
The Images
I also started off this already having some content created. Perhaps there will be some people who won't which is why I'm calling it out. When I implemented the new theme I realized that they didn't automagically resize images to fit a certain ratio, you had to create your images at that ratio, so mine felt a bit all over the place.
It took hours, but I created Photoshop templates and re-created images for every single one of my blogs. I know Photoshop, so I was able to do this. If you don't know Photoshop, you'll need to hire someone to do this for you. Your other option would be to hire someone to create Photoshop templates for you. Or, you could figure out how to do it in Canva. I've played around with that program, and it does give you some great abilities, but since it's free, you are limited in what you can do.
Thoughts on Template vs. Custom Website
For the most part the theme was easy enough and I figured out where I needed to change my text, swap images, etc. I downloaded it on Friday morning, and it took me until Saturday evening to be happy with it.
I use RescueTime to track my hours for clients. This helps me see where I spend my hours in general on my computer. Looking back I spent 5 hours on Friday and 7 hours on Saturday getting the site up and running, for a total of 12 hours.
I also still do not have my Mailchimp forms hooked up. I need API keys for that and some customizations so I want Nic to do it since he's done that numerous times. If I had to learn it I would guess it would take me another 2-3 hours to set that up. I'm hoping it will only take him 1 max.
In the end I don't think templates are for your average person.
They are for someone who has an idea of what they're doing. I think using a template transfers the time from a web developer to a designer or even a project manager (meaning lower hourly cost). However, it doesn't necessarily translate to savings. This is because it may take them longer to do than it would take a programmer to program a designer's custom design.
There are also limitations to using a template, one of the biggest (from a design perspective) being that other people could be using the same one.
Final Thoughts
In the end, I am happy with the final product. I would have had to wait a while for our schedule to clear before Nic would get a chance to build it for me. So, at least I got something good looking live on the Internet.
Will I keep this forever? Probably not. There are still customizations I'd like to do that I'm limited from with the template, but at least I have a good base to start from.
I hope this helps you understand templates / themes vs. a custom website build.
If you have any questions, or want to learn more about how we can help you create your website please reach out!